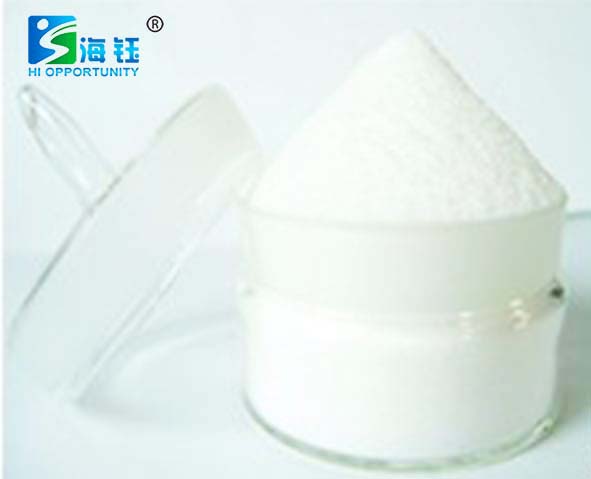 Glucosamine Hydrochloride,EnglishD-Glucosamine Hydrochloride,Molecular formula C6H13NO5. HCl, molecular weight 215.5, white crystal, odorless, slightly sweet, soluble in water, slightly soluble in methanol, insoluble in organic solvents such as ethanol.
Property description
The product is white crystalline, melting point 190-194 degree C, specific optical rotation 72.5 degree (c = 2, H 2, 5hrs.), water soluble, odorless, slightly sweet, soluble in water, slightly soluble in methanol, insoluble in organic solvents such as ethanol. Usage: Mainly used for medical drugs. It has important physiological functions for human body, participates in detoxification of liver and kidney, plays an anti-inflammatory and liver-protecting role, stimulates the growth of bifidobacteria in infant intestinal tract, has good curative effect on treating rheumatic arthritis and gastric ulcer, inhibits the growth of cells, is the main raw material for synthesizing antibiotics and anticancer drugs, and can also be used in food, cosmetics and feed additives, with a wide range of uses.
White crystalline powder
Physical parameters:
Melting point: 190-194 degrees C (dec.) (lit.)
Specific optical rotation: +70.0 +73.0 (C=5%, H_2O, stable for 20 hours)
Quality standard:
Content: > 98.0%
Burning residue: <0.1%
Drying Weightlessness: <1.0%
Chloride ion: < 17.00%
Iron ion: < 10 ppm
Sulfate: <0.24%
Organic volatile impurities: meet the requirements
Heavy metals: <10 ppm
PH value: 3.0-5.0 (5%, 20 C)
Usage description
Glucosamine hydrochloride is extracted from natural chitin and is a marine biological preparation. It can promote the synthesis of human mucopolysaccharide, improve the viscosity of synovial fluid, and improve the metabolism of articular cartilage. It can promote the efficiency of antibiotic injection and is used to synthesize water-soluble anticancer drug chloramphenicol, which has the anticancer activity of nitrosoureas and also has the anti-cancer effect. The characteristics of low toxicity of bone marrow preparation show certain therapeutic effects on melanoma, lung cancer, renal cancer, etc. Supplementary glucosamine medium can enhance the N-glycosylation of secretory proteins and influence cell line variation such as ring cells and stem cells. Glucosamine, an amino sugar, is a precursor of biosynthetic hexadecane route, which can lead to the formation of UDP-N-acetylglucosamine. Sugar (UDP-GlcNAc), subsequently used in the preparation of mucopolysaccharides, proteoglycans and glycolipids
major function
Glucosamine hydrochloride is the only substance that can be used to treat bone and joint diseases. Glucosamine should be used with chondroitin sulfate to relieve pain and promote cartilage regeneration, which can fundamentally improve joint problems. The specific effects are as follows:
Alleviate pain, stiffness and swelling caused by arthritis
Osteoporosis causes cartilage to wear out and eventually leads to fragmentation and exfoliation. The joints lack cartilage cushion and are prone to painful stiffness and inflammation. Glucosamine can help repair damaged cartilage, stimulate the formation of new cartilage, improve inflammation symptoms, relieve joint pain, stiffness and swelling.
Strengthen cartilage structure to prevent joint failure
With the aging of the body, the joint tissue will be severely worn. Glucosamine can protect and strengthen the cartilage structure and prevent the joint function failure caused by the aging of the joint.
Lubrication of joints and maintenance of joint function
Glucosamine can make proteoglycan to lubricate joints, prevent friction and pain between joints and bones, and make joints move freely.