Advantage is resources. Only when there are resources, can there be development. Haiyu Biology started out because of its dream and adhered to its mission. After twelve years of development and precipitation, Haiyu Biology has formed its own unique advantages, which has become the core competitiveness of the steady development of enterprises and laid a solid and solid foundation for the sustainable operation of enterprises.
Production advantage
The company has established GMP 100,000 purification workshop of "refined, baked and packaged", which has passed the GMP standard acceptance of Shandong Food and Drug Administration. The workshop is designed in strict accordance with the requirements of GMP certification, with advanced production equipment and first-class production environment. During the production process, the independent management system of product quality and hygiene safety is implemented, and the national GMP production standards and good operating standards are strictly followed. The bad habits in production are eliminated. Seamless, aseptic, dust-free and dead angle are achieved. The air quality adopts 100,000-grade purification standards, and the production workshop is totally closed to ensure the production of safe, stable and reliable health products.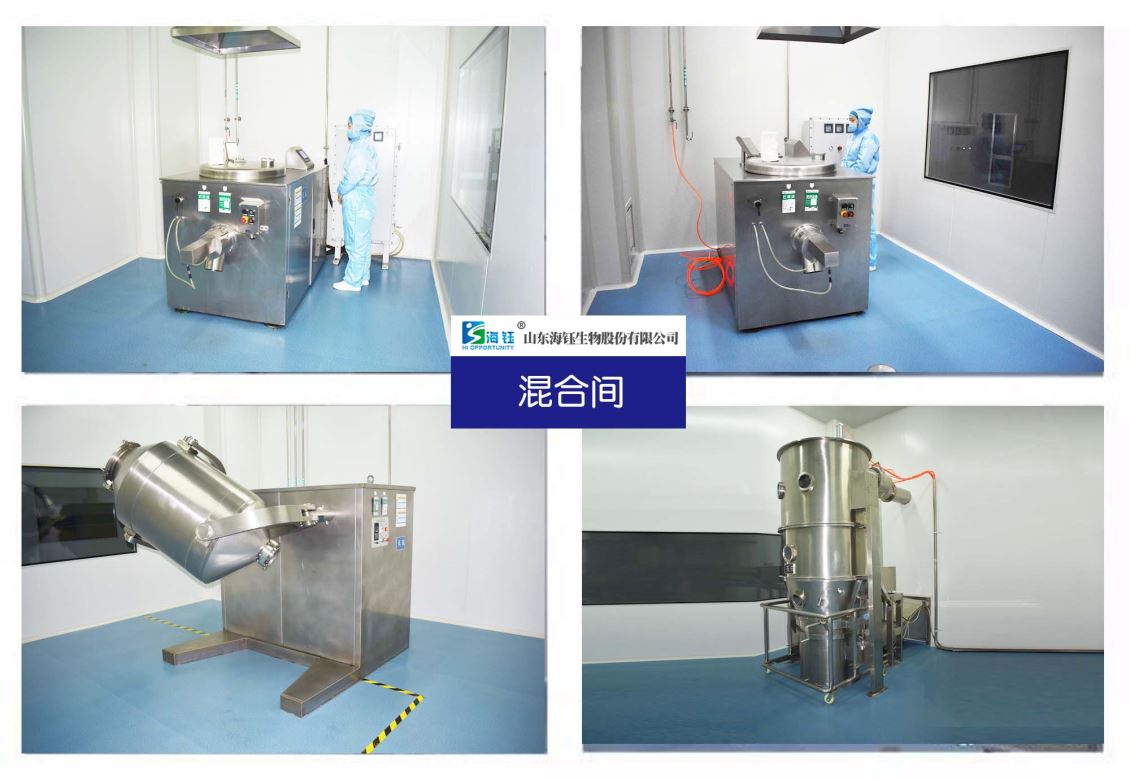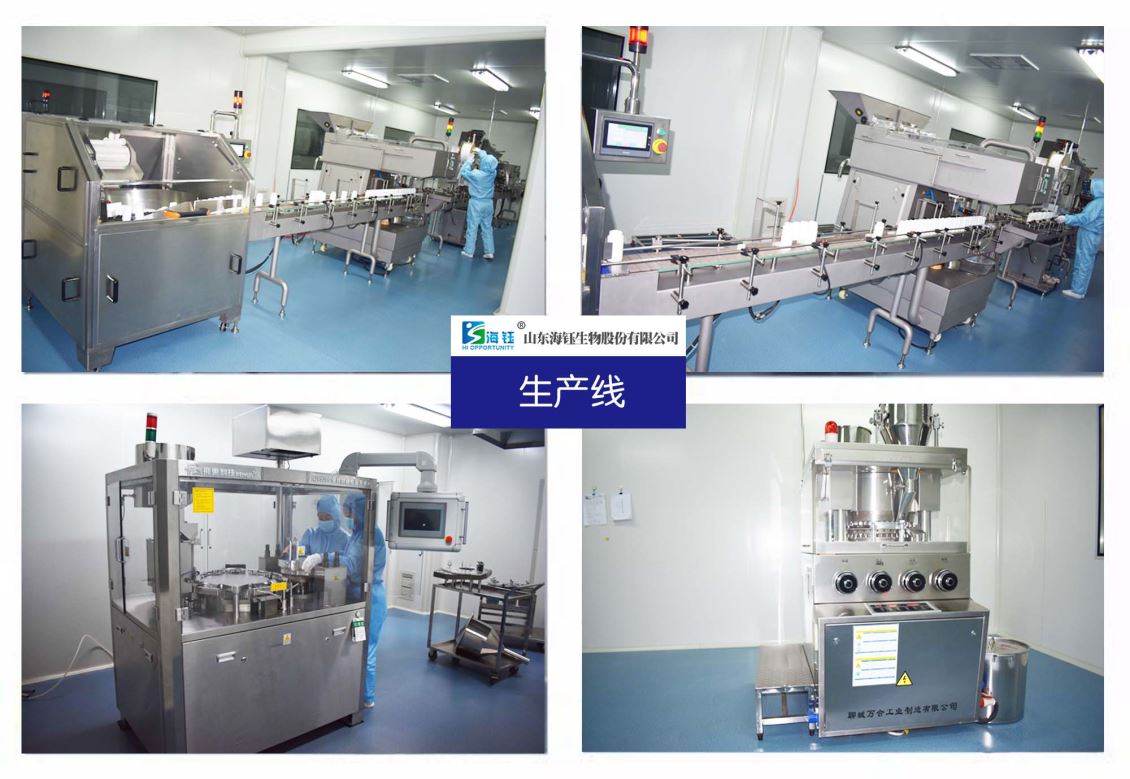 Raw material advantage
As a professional chondroitin sulfate producer and service provider in Shandong Province, Haiyu Biology has focused on chondroitin sulfate research and development and production for 12 years. It has become an important supplier of Vita Company, Robbie Chemical Company and Nutrimax Company in the United States, and has established close cooperation with Dubia Company in the United Kingdom.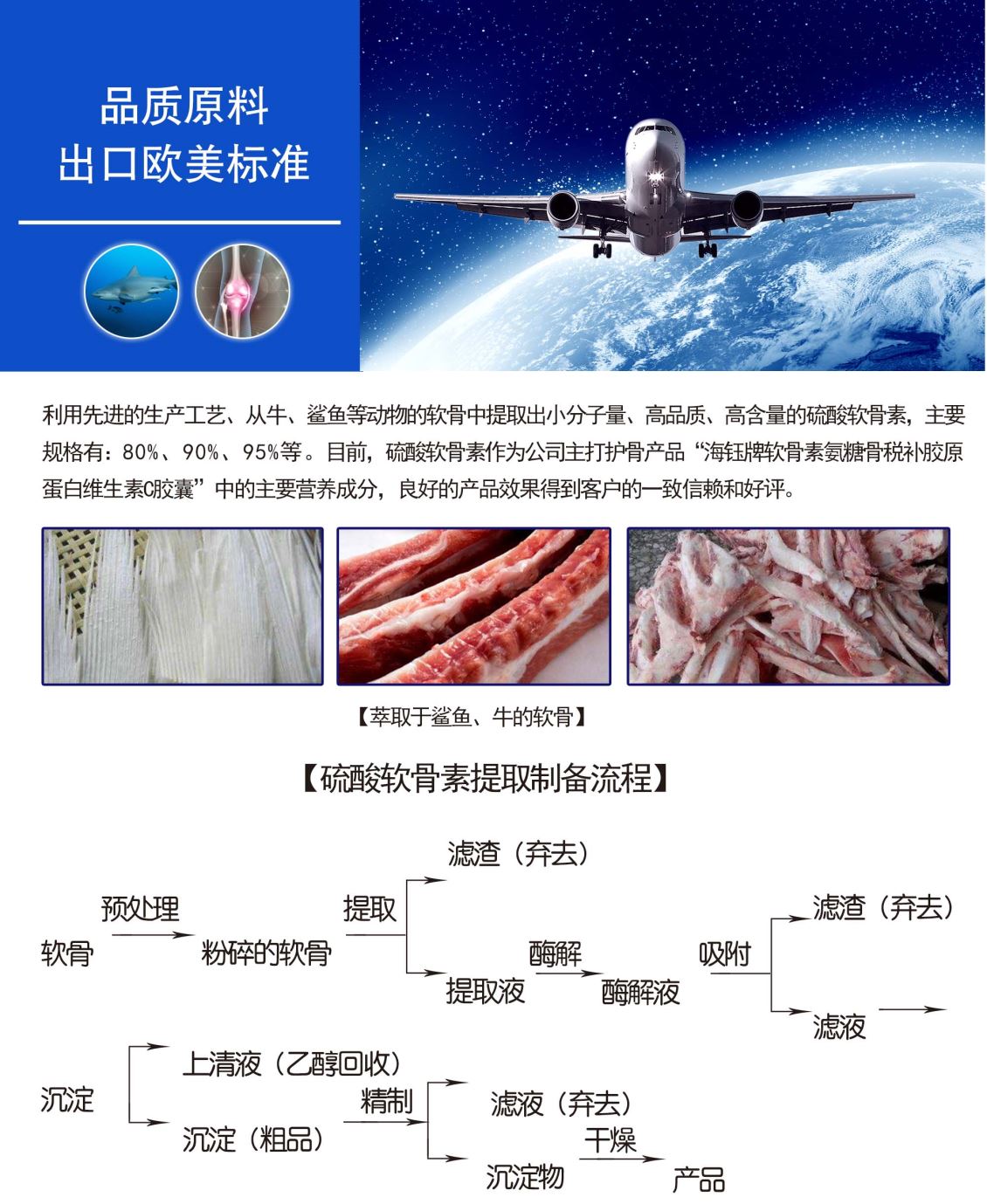 Product advantage
The company independently develops and designs new products, provides OEM generation processing, rich product lines, products involving pharmaceutical intermediates, SC food, health nutrients, functional cosmetics and other fields, has more than a dozen biotechnology products approved by the State Food and Drug Administration, such as Increased Density Capsules, Kwai Malijian, Qingtang lotus, collagen, black garlic, chelated calcium and so on. Various products, complete series, more attractive to consumers.

Cost-effective advantage
Our service tenet is "to upgrade technology, to improve quality, and to keep price unchanged".
(1) Efficiency: We have first-class R&D technical force, first-class operation of the advanced production line, first-class management experience, through GMP certification, ISO 9001 quality management system, food safety management system, HACCP system certification, to ensure that each product is efficient and safe.
(2) High quality: Strict control of raw materials, standard operating standards and multiple strict quality inspection in the production process, to ensure the long-term stability, effectiveness, safety and durability of the products produced. Ensure product quality from source.
(3) Low price: relying on the company's own processing and production of raw materials, eliminating the middleman's price increase for profit, so as to ensure the lowest cost of raw materials and the lowest sales price of products.
Service advantages
Haiyu Biology takes "honesty is the foundation and service is the highest" as its action criterion, establishes a timely and effective special customer return visit system, uses market feedback as a reference, keeps abreast of market situation and strictly controls product quality. With years of influence in the industry, Haiyu Biology has integrated high-quality resources in the industry to provide "one-stop" services for businesses. "Professional, efficient and intimate" customer service team provides effective help for the agent to open shop guidance, activities promotion, new customers, customer protection, efficient staff management, etc., and brings the ideal of wealth and freedom to the customer to realize the sales of health care products.